CIVIL PROTECTION: DOUBLE FEATURE!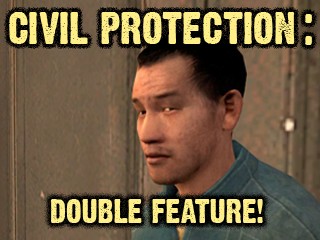 Hey everyone, I have not one, but TWO new Civil Protection episodes! For those just tuning in, the last Civil Protection episode left me so frustrated with the Source engine that I said I wasn't going to make another episode on it. Well I meant it! I looked at the Unreal 3 Engine, Crytech 3 engine, Unigine, iClone, but finally decided on the Smackdown Engine by Funkdoobiest Software. All future videos here will be made using it.
The Smackdown engine has been nothing short of incredible, as I'm sure you'll see in the videos. I've been able to do work on it that may not have even been possible on the Source engine due to how it handles lighting and object manipulation. With this engine, episodes have been produced in days that would have taken me months in the past. Because of my switch to it, I'm so far ahead of schedule on my movie project that I had time to make some shorter CP episodes. Enjoy!