FREEMAN'S MIND: EPISODE 15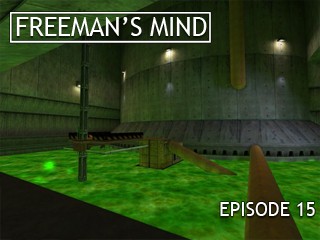 Youtube
Well here's the latest episode, one of the most difficult episodes for me to produce to date, due to the recording situation. It looks like that's getting resolved however, so hopefully the pace should pick up sooner on that. It's anyone's guess though as the computer they salvaged for me completely died on Thursday, but rumor has it there's a laptop I can continue working on. Also I apologize in advance if the video looks a little choppy on Youtube. With the exception of FM14 and Morning Patrol, every single video I've submitted to Machinima.com has been uploaded at the incorrect framerate on Youtube. Maybe someday this will get fixed.
Progress continues on the next CP episode. I'm determined to release that before Halloween and will likely be working on weekends as well to make sure that happens.
EDIT:
I've been informed that the Youtube version is far darker than it should be, this does appear to be true. This is bad, since this is already a darker episode in terms of lighting. I don't know why the brightness was reduced, but it wasn't my fault this time. I recommend either watching the streaming version on Machinima.com or downloading the WMV version.