FREEMAN'S MIND: EPISODE 29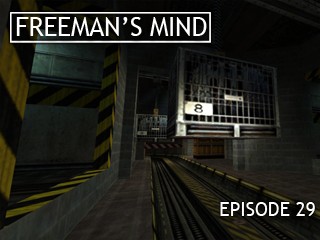 Youtube
Here's the next episode of Freeman's Mind. It's the longest episode of FM so far, not because I planned it that way, but because that's the only area I found a good jumping off spot. This one is pretty average. I think the next one will be better, there will be more to interact with.
This episode took longer than I anticipated. If I hadn't done these last few episodes and if the website didn't keep getting hacked, I might be done with the next Civil Protection episode by now, or at least the animation work. As for the website, the new version will almost certainly launch this week. It won't be in a final state by any means, but it should retain similar functionality as this one and hopefully be more secure.
Since focusing on several different things tends to slow me down, there will be NO MORE FREEMAN'S MIND until I'm done with the animation work on Civil Protection. I don't care how many people this pisses off, I want to finish it. The amount of time this episode has taken has become a real thorn in my side. You'll also be wasting your time asking for release dates, I don't know them either. I'll make an update once the animation work is done however.