FREEMAN'S MIND: EPISODE 32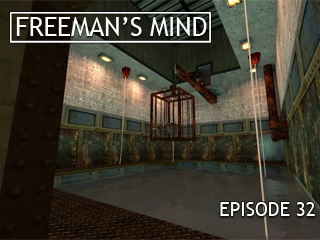 Here's the next Freeman's Mind episode after a delay of me moving, doing April Fool's Day videos, trying to get the website/forums fixed, and getting a good recording setup. You can expect them to come out at a faster pace now, especially since the series has been neglected for a while. I can't record at all hours of the day at my new location however, but I should have regular blocks of time when I can get recording done for it. I think this episode came out pretty well and contains a line I thought of before I started doing the first episode. I'll keep updating the progress on future episodes so you can see how far along things are.
EDIT:
For some reason the video was darkened by Machinima.com on Youtube. I don't know why this is, but the downloadable copy should have the correct lighting values, it's as it appears in the game.