FREEMAN'S MIND: EPISODE 36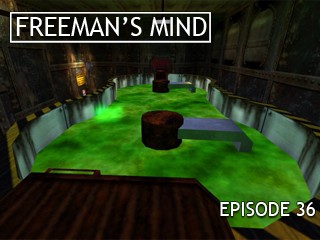 Well I hope everybody likes watching someone wandering around lost and talking to themselves, because that's what you're getting with this episode. And the next. And the next. This is one of the less action-oriented areas of the game. I've noticed before that sometimes people get upset when I don't take the most direct route in the game. In this case, I try to exhaust all options that a real person would try before going with what the game wants me to do. I am a little concerned that maybe these latest episodes are weaker because of the pace I'm putting them out, I'll see.
I'm afraid there's still not much progress at all in other areas due to the weekly pace of Freeman's Mind. Once I let up on the pace, my focus will be on isolating bugs in the Source engine for Civil Protection, improving the website and links, and catching up on emails (I currently have about 380 to reply to dating back to the end of March).