FREEMAN'S MIND: EPISODE 45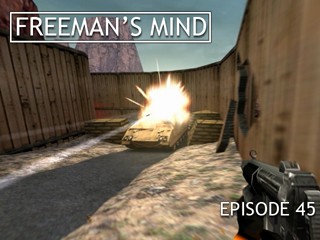 (Downloadable copy will come out later)
Welcome to the longest delayed episode of Freeman's Mind ever made! This video was actually completed last year, but is only just now finally free to go up. If you're wondering why this took so long or if the series had died, you can read more about it here . Future Freeman's Mind episodes will no longer be appearing on Machinima.com. They will go up on my own long-neglected Youtube channel, my new blip.tv channel , and also on thatguywiththeglasses.com. At some point in the future I may delay the newest episodes going up on Youtube, but nothing's decided yet, I'll have to see how this all plays out. In the meantime, please feel free to spread the word of where the new videos will be since I imagine a lot of people will still be looking on Machinima.com.
If some of you are watching this series for the first time, be sure to check out the episode page on the site here to see all the previous videos. It's still a work in progress and will look better in the future, but all the links SHOULD be functional by the end of the day.
As for the episode itself, I'll warn everyone right now that this one contains some singing. It's not that I especially like singing actually, it's more that the song sung in this video is considered notoriously hard to do so I thought it would be a good challenge for Freeman, plus it semi-fits the circumstances in the video. In any event, I have NO plans for future videos with singing in them, so you can rest easy.
Even though most of the situation was out of my control, you have my apologies for such a long delay on this episode, I plan for something like this to never happen again. Also while I won't promise release dates in general, it's my goal for the foreseeable future to have at least two FM episodes coming out a month from now on. I'm also gearing up to be producing even more videos and other content in addition to that. I'll have all updates here on the site.
Note: Apparently some people received an email update about an old episode, I'm not sure what's happening with that, hopefully we'll get it fixed.