FREEMAN'S MIND: EPISODE 58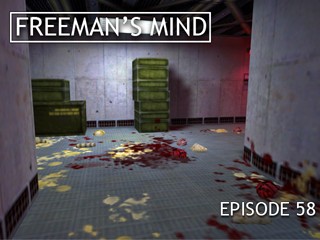 (Downloadable copy will be up later)
Subtitles: English
The next Freeman's Mind episode is out, after a much-longer-than-expected delay! I'm guessing some people guessed the content of this episode was next, but probably not everyone. Due to this episode being filmed in a different engine, on a technical level, it was actually the most difficult one since the original, maybe even moreso in some ways. I had to invent some new tricks to make the visuals semi-consistent with the previous episodes. My apologies about the delay, this one didn't get started on until July and while the voicework has been done on this one for a few weeks, the sound editing took way more work than usual and I was working on other things while Otto finished this one off.
Some of you may be concerned I won't get to finishing Half-Life 1 this year at this rate, and if every episode was going to take this long, you'd be right. However, Freeman's Mind has been shifting to become a priority and I have confidence I'll be able to get Half-Life completed this year. What I don't know is if I'll have any holiday-related Game Dungeon episodes or the DOTA 2 voice pack redo before FM is done, I'll just have to see how things go.
While the next episode will likely take longer than average, it absolutely won't take as long as the gap between 57 and 58.