CIVIL PROTECTION: CHRISTMAS COMMUNITY OUTREACH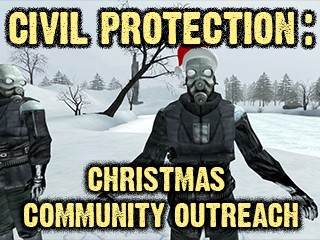 Merry Valve-Time Christmas! This episode is obviously late for a lot of reasons, but I'm pretty happy with how it turned out. This episode ended up taking massively longer than it was supposed to and was meant to be an "easy" episode. It was actually supposed to be the second part of a sub-series idea I had for Civil Protection, called "Community Outreach" episodes. The idea was that I would take viewer questions pretending to be City 17 citizens, pick ones I liked, then have Mike and Dave answer them on-camera. I thought this would be a fast way to get episodes out, but too many things in the Source engine ended up slowing me down. I still think the idea has potential at some point in the future however.
This is also the first episode where the majority of the animation (maybe 90%) is done via motion capture. While both "Morning Patrol" and "The Tunnel" used a few motion capture animations, this is the first one where I acted out the major parts myself. I think the results are mixed. The raw animations are quite jittery, so I had to smooth them out substantially. This leads to some slightly awkward movements in places, but I think the technology has a lot of potential and can save a bunch of time, depending on how dynamic the animation is.
Finally, this is likely going to be the last Civil Protection episode done on the Source engine. While I have almost no problems with the general look of the engine, the behind-the-scenes work involved with creating the episodes is just too massive for what I'm trying to do. While I plan to eventually make future CP episodes with Half-Life content ported over, it's going to be a long time, as I'm going to be focusing on trying to create an actual full-length movie this year (and more Freeman's Mind). I still don't know what software I'll be using in the future, though my first priority is to be able to easily create lots of characters capable of facial expressions and lip-sync and then see what's compatible with that.