News on Russian dubbed copies of my videos
Hey everyone, I'm going to repeat this on the next videochat, but I wanted to publicly clarify an incident that came up recently. On March 31st, as I was uploading the Maabus episode, I discovered that I had TWELVE copyright claims against me, mostly for Freeman's Mind. I took a screenshot of the incident here illustrating it: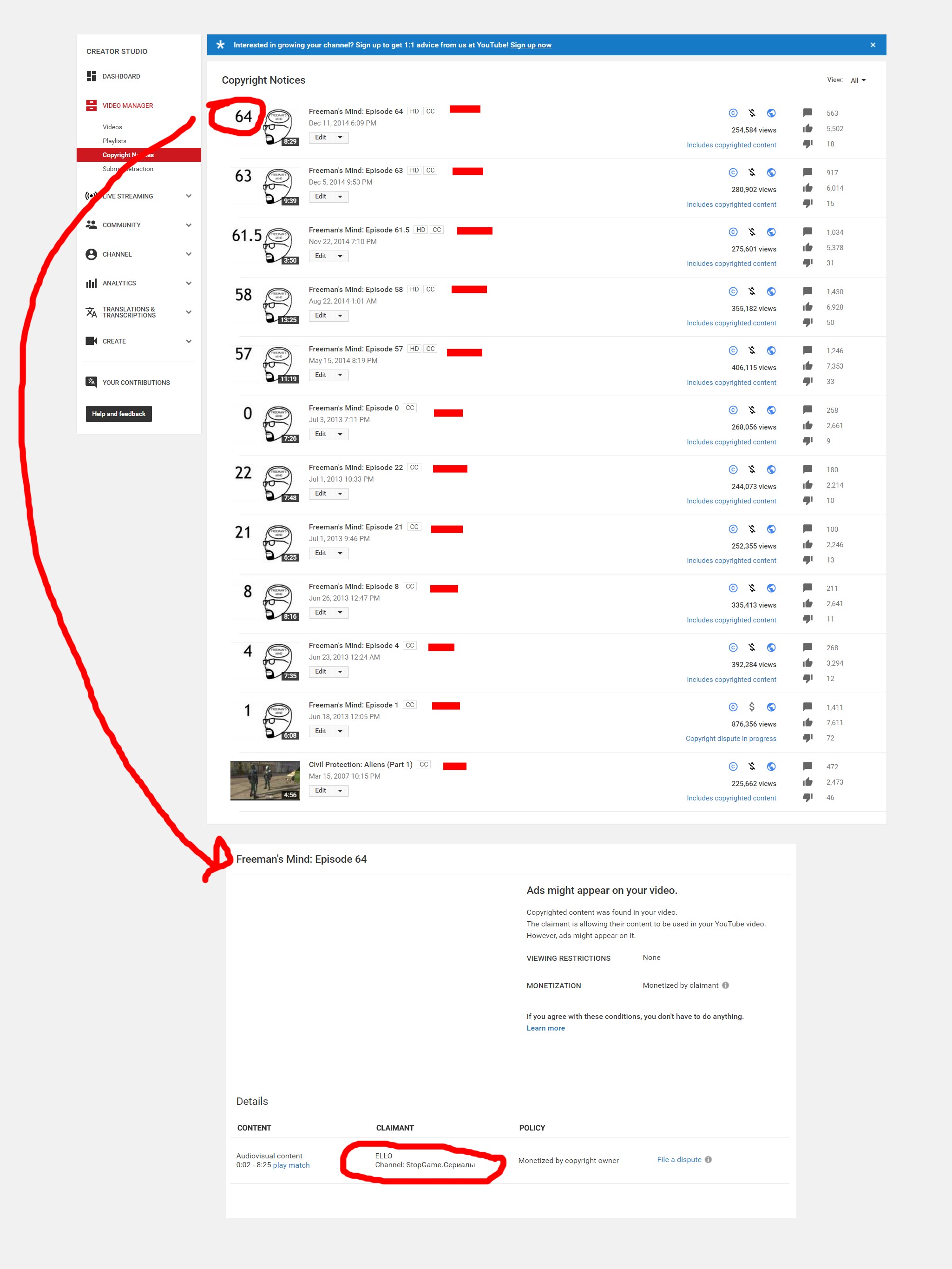 I was quite upset about this, because not only was the company trying to claim ownership of the videos and take revenue from it, but actions like this could threaten the existence of my whole channel. After some consultation with other Youtubers (thanks especially to Shane Luis from the ReRez channel), I disputed all the claims against me AND laid counter-claims to all my videos on their channel, where they were quickly taken down. I've been contacted by some people upset over these actions as they thought I was being mean spirited, but in my eyes, I had no choice; they were acting like a rabid dog and had to be put down.
During this time, I also emailed a few contacts who had worked at stopgame.ru in the past, only to be informed later that the channel making claims against me is NOT their channel, it's a fake posing as them. If that's correct, that really makes this channel look bad. I am actually curious what led to them doing that, you would think trying to do a takedown on the actual creator when you're the one taking the videos in the first place would not be a wise move for your company.
This whole incident brings up another issue regarding translations, so I would like to clarify my stance on that.
To date, not one cent has ever gone to me for dubbed copies of my videos in other languages. Even for the REAL stopgame.ru channel making dubbed translations, I've never been completely thrilled with them making those, monetizing them, and me receiving 0% of the earnings. The analogy I make would be like taking a foreign film, making a dubbed translation of it, then selling that and keeping all the profits. Even though the translator and dubber did their own work, I imagine the original creator did more. However, I realize that dubbed copies reach a wider audience than English ones would alone, so I've mostly just tolerated this stuff, having mixed feelings about it and generally being too busy to pursue it further. So rather than leave things hazy, I wanted to clarify what my exact stance is on translations:
Subtitle translations: I'm happy to accept fan-made foreign subtitles. Please email [email protected] if you have some in another language you would like to submit. Don't use my normal email address for this or it will take forever to process this. You can give yourself credit at the beginning or end of the subtitle files themselves. In the event of more than one submission for the same video, we'll try our best to use the better one. I would prefer you NOT upload copies of my videos with the subtitles added on your own channel.
Dubbed audio translations that are non-monetized: If you make a dubbed translation of my videos but it is NOT monetized, (so in other words, no ads running on it and it is just a fan made project), that's fine.
Dubbed audio translations that ARE monetized: If you make a dubbed translation of my videos that IS monetized, I would prefer you give me SOMETHING for it. I'm not good at figuring out what is a fair percentage (maybe people have suggestions in the comments), but I do feel like 0% of the earnings is a little low. This stuff can add up over time, the channel whose videos I made claims against likely got over 1-2 million views collectively for all my videos together. I imagine it's a similar story for other places hosting fan-dubbed translations. Since Youtube does not make payment an easy or practical process (or some videos are hosted off Youtube), you can always just send me a payment via Paypal, or hell, even with Bitcoin + an email (address: 1DCs8dQ7vRi99qQdfQFurxxm5rT29DRTpL). So if you ARE profiting off my videos and want to be legit about it, send a payment of whatever you think a fair percentage is to Paypal address [email protected] with a message saying it's for monetizing the dubbed copies. Do NOT use the donation page for this, that's processed differently than actual business transactions. If you do this, then that's evidence you're acting legally and with my permission (assuming you're not giving me 30 cents when you've earned 00 or something). Doing this once a year would be fine. If you have any questions about this, you can contact me at my normal email address.
I'm not expecting much to come of this. I figure the people making money off my stuff without my permission probably aren't particularly keen on the honor system either, but at least I can have a policy about this now. I really hate getting involved in stuff like this, I don't want to be a person grubbing every last cent out of people and ultimately, this is probably a minority of earnings. There's a pretty low risk of me coming after anyone about this, I'd rather just focus on the videos. But at the same time, people selling stuff you worked on and keeping all the money can rub you the wrong way psychologically.
That's it! Hopefully this stuff never comes up again!